Michelle,
Hi again. Did you know in July I started as the new publisher of our local Gulf Coast Natural Awakenings magazine? It has been a wonderful adventure, a new surprising undertaking that I could not have predicted a year ago. A magazine that focuses on healthy living on a healthy planet is the perfect compliment to my health coaching endeavors. The many educational articles offer tips on eating better, sleeping better, living better, taking care of our bodies, our kids bodies, our pets and our planet!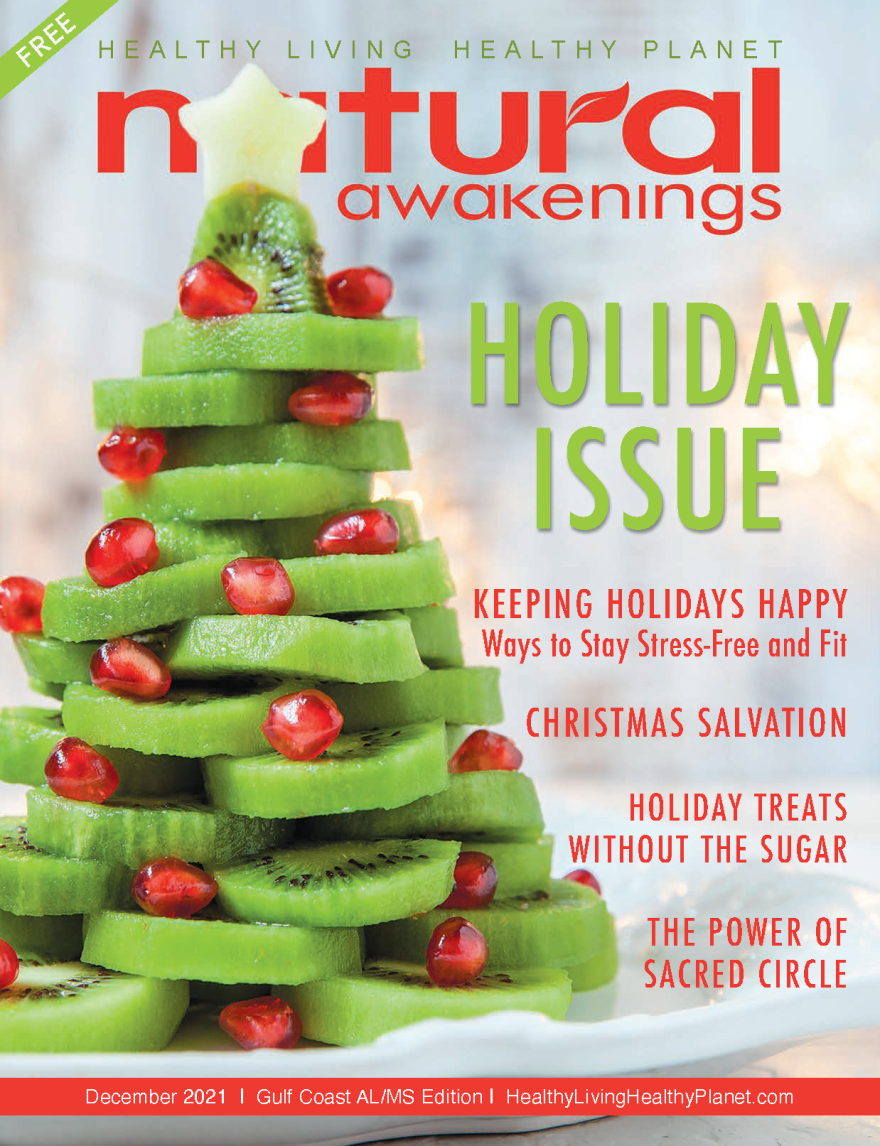 If you haven't already read our December Holiday issue check it out! You will find our feature article is "Ways to Enjoy Healthier Holiday Fare" with tips to eat less sugar and some amazing sugar free recipes including: Baklava Cookie Cups; Healthy Dark Chocolate Bark; Baked Apples and many more. YUM.
This is just one of the several articles to delight your senses and introduce you to a new way of thinking about so many things, fitness, green living, gaining balance and energy and even a story about Christmas Salvation. I hope you will take the time to pick up a magazine at your local grocery store, yoga studio, restaurant, fitness boutique or so many other places. Or you can click on the magazine cover to go straight to our digital version.
May your days be merry and bright. I hope to hear from you soon.
Merry Christmas!
Coach Michelle

If you would like to learn more about eating clean and living healthy, join the next group in January 2022 for our third
5-WEEK GROUP HEALTH COACHING SERIES:
EAT HEALTHY LIVE HEALTHY
WEDNSDAYS JAN 5TH - FEB 2ND 5:30-6:30pm on Zoom.
We'll discuss health and nutrition standards by MyPlate.gov and we will follow a strict TWO WEEK 'whole body detox' plan together. For more information and to register: https://goodlifehealthcoaching.com/nutrition-group-coaching.html

SIGNUP: Group Coaching EAT HEALTHY LIVE HEALTHY

Michelle is a board certified (NBCHWC) functional medicine health & wellness coach. She offers individual, group coaching and healthy living workshops. Visit www.goodlifehealthcoaching for more information. Join Coach Michelle Smith on your journey to better nutrition choices, more energy, and renewed health! Call/email for more info 251-635-6250.
If you know someone else who could benefit from this 5 week series, please feel free to forward this email. We need a minimum of 5 participants and Max is 10.
To Your Health,